Have a Sweet Tooth? Enjoy Donuts Anytime and Anywhere With the Best Donut Catering
[:en]A sweet tooth can be a devil on our shoulder, a temptress to plop on the couch and scoop up bites of treats like a donut or ice cream. So what better than having donut catering right at your doorstep for you to enjoy the entire experience.
Practically speaking, you don't really need a reason to enjoy donuts. But, if you do, here are some perfect excuses to indulge in a sweet binge.
When It's Time to Celebrate Birthday Parties
Whether it's for kids or your own birthday party, order donuts from a nearby donut catering service, and bring the fun to your place. Why should you order a cake when you can order donuts?
The great thing is you can order different selections, providing options to your guests. No need to worry about whether someone likes chocolate or vanilla. Now, you can bring a little extra fun for birthday parties. You can also design your donuts to fit into a birthday theme as well!

When You Crave for Donuts on Your Sleepovers
There's no age limit for a sleepover. Whether it's you and your friends spending the night and watching movies or your child's friends, bring some donuts along. You can design your donuts for a special occasion, too.
---
"Get your favorite donuts delivered at your doorstep with fast donut catering by MyShipleyDonuts."
---
Maybe it's a Pokémon kind of night and you have a marathon going on. Well, lucky for you MyShilpleyDonuts can deliver Pokémon donuts and any other donuts you'd like.
When You Want to Sweeten Up the Office Parties
Living in Houston gives you a lot of options to choose from, especially when it comes to food. Sometimes, it's difficult to please everyone in the office. With the help of an efficient donut catering service, find the grub you need to get your office party going. Let us help bring fun to work.
When You Want Donuts as a Wedding Dessert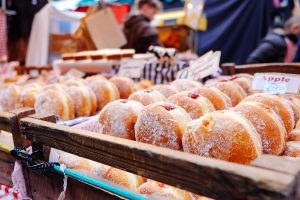 When we eat something our brain connects all five of our senses and let's say taking a bite into that cookie dough is so satisfying, too.
Yes, you can have a cake, but why not some tasty treats as well?
Donuts are a great finger food to eat while dancing and mingling with wedding guests. Provide some fuel for your guests to keep the party going.
And, you can have a donut wall, which is a crazy fad for weddings these days. Not only can you feed your guests but they also help add to your decoration.
When You Want to Snack Anytime
Whether you're at a business meeting or a college event, you know the struggle of needing a snack. That feeling of your stomach rumbling is horrible.
You feel sluggish and need something to get you through the rest of the day. They say that snacking helps fuel your body to get you through the day. So why not get donut catering to provide a snack for everyone?
When You Plan a Special Sunday Brunch
Sunday brunches are always great. Meeting up with friends on the weekend for food and good company is a great way to end your week.
But do you know what could make it better? Oh yes, donuts. Cater your friends to our donuts and give them the brunch they deserve. Mimosas and donuts sound excellent, don't they?
---
"Bring more fun to your Sunday brunch with easy online donut catering."
---
When You Want to Keep Up with the Study Sessions
Study sessions are stressful, especially if you've been studying for a long period of time. Next time you have to study for a test or final with classmates, help ease the stress with some donuts.
We can deliver them to your room or campus to bring some enjoyment to your session. Breaks are always good to refresh the brain. We can make sure you're ready to go to continue your studying.
Order Shipley's Donut Catering in Houston for Your Sweet Cravings!
If you're ready to order donuts for everyone, contact Shipley Do-Nuts! Call us today at 713-589-3292 or place your order online. Our donut catering services do require at least a 24-hour advanced notice. We can also place orders in advance for up to 30 days. Start your online order today!

Have a Sweet Tooth? Enjoy Donuts Anytime and Anywhere With the Best Donut Catering | MyShipleyDonuts – Houston, TX[:]