The 7 Best Donuts from Shipley's Menu
Greetings from the donuts of your neighborhood! At My Shipley Donuts, we are known for our commitment towards donuts, and everything related to our sweet treats. At both our locations, we make sure this commitment is resoundingly heard and fulfilled. Plus, a few little extras and secrets, unique to us.
Choosing a favorite donut is like choosing a favorite kid, nearly impossible. Shipley's Menu is vast and with so many delicious items, it might be hard to decide what you should go for to satisfy your urge for the perfect donut, with all the bells and whistles you want. And so we've decided to go ahead and make that infinitely easier for you with our dazzling selection of delectable donuts for this month.
7 Best Donuts to Satisfy Your Cravings
7. Classic Glazed
Ah, the default, the one that made history. This is for someone who enjoys the simpler pleasures in life, the easy-chair person who knows what they want without overcomplicating it. The Classic Glazed is exactly what it says on the menu – classic, hearty, delicious and nostalgic. Enjoy it with your choice of coffee or all on its own.
6. Chocolate Glazed
Okay, we're taking the Classic glazed and getting just the slightest bit adventurous right now. Our pick for no. 6 is a heavyweight in its own right, and is the perfect match for the multitasker looking to get their urges for donuts and chocolate satisfied at the same time. Two birds, a stone, you know the deal.
5. Strawberry Cream Filled
We looked around for our no. 5 a bit and well, turns out we didn't really have to look around much. Its Strawberry Cream Pie. Inside a donut. One of these and the flavor explosion of strawberry cream will be a feeling you'll remember for the rest of your days; we know we will.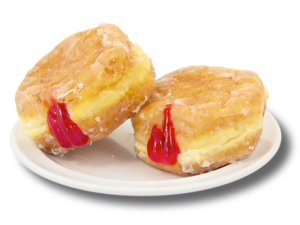 4. Cherry Sprinkle
And now we come to your Valentine's choice of mouth-watering goodies on the go; the Cherry Sprinkle. Nothing less than the humble Classic, dipped in a thick, luscious cherry glaze and topped off with sprinkles. We're always open for lovebirds!
3. Beignets
Okay, okay, this is cheating, but just a little bit. But one look at this frosted masterpiece and you'll soon begin to see why we were transfixed for a moment on our no. 3 pick. Your local Mardi Gras festivities' signature, beignets. Soft, delightful, buttery and flaky, these are in our top three for a reason; the frying which takes them to a new level. Sometimes, the French just know how to make it better.
2. Oreo Cookie
We're getting to the big boys now. The Oreo Cookie donuts go hard in the paint to provide your mouth with the signature Oreo flavor, frosted with their cream and then topped off with the crushed cookies. What more could you want? More of these, that's what.
1. Chocolate Iced Cake
And our top spot goes to the most glorious of them all, the holy grail of fusing confectionery delights, the Iced Cake donuts. And when we say cake, we mean it. Made with sweetened dough, frosted and topped off with sprinkles as per our strict donut guidelines (not official, but shh) and then delivered straight to your taste buds. All. That. Jazz.
And so we come to the conclusion of this guide for the confused confectionery customer, and the decidedly determined donut-lover alike. Better yet, we're looking forward to your perfect picks. Let us know by ordering online!