Get Seasonal Donuts for Your Mardi Gras Party
Mardi Gras is fast approaching, and what better way to party than with seasonal donuts from MyShipleyDonuts?  Our Mardi Gras-themed donuts will take your party from drab to fab – and delicious.
Read on to learn more about the delicious seasonal donuts at MyShipleyDonuts.
Get the Best Seasonal Donuts for Mardi Gras
Hosting a Mardi Gras party this year? Then be the hit of the party with Mardi Gras-themed donuts.
Whether you're in it for the beads or the King Cake, Mardi Gras is a fun time for everyone. And if you can't make it Bourbon Street this year, MyShipleyDonuts has your back with Mardi Gras treats you'll love.
What is Mardi Gras?
Mardi Gras, also known as Fat Tuesday, is an annual carnival held in several countries around the world. Most notably, the city of New Orleans is known for its extravagant Mardi Gras parties and parades down Bourbon Street. As such, it's the hub for people looking to celebrate Fat Tuesday. In fact, the New Orleans celebrations start in January and run all the way through March. But it's also celebrated in countries across the world, like Brazil, and many places with Catholic-majority.
The day itself is the culmination of the Carnival season, which starts on or after the Christian Feast of the Epiphany in January. It's the day before Ash Wednesday, another important day for Christians that marks the beginning of Lent season. During Lent, many Christians fast or give up something. Lent is meant to prepare Christians for Easter through prayer, doing penance, repentance of sins, almsgiving, and self-denial.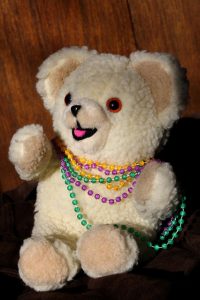 The event nowadays is marked by weeks of parades and celebration, often including extravagant floats and music. It's also common for Mardi Gras celebrations to have "throws" where people on floats throw out items like beads, candy, and more to parade watchers. While they typically throw beads, throws have also been known to include:
moonpies
doubloon coins
stuffed animals
decorated cups
wrapped cakes and snacks
small toys
footballs
whistles
frisbees
Why is it called Fat Tuesday?
So why is it called Fat Tuesday? Well, it's quite simple, actually. "Mardi Gras" is actually French for Fat Tuesday! It's also called Shrove Tuesday.
As mentioned previously, Fat Tuesday is the day before Ash Wednesday. Since Ash Wednesday marks the beginning of Lent season, it's usually when Christians give up certain things or start fasting. As such, the day before is called "Fat Tuesday," the last day Christians can eat lots of delicious, rich food before Lent begins. It's a last hurrah before Lent!
When did Mardi Gras start?
The first Mardi Gras celebration was reported to have occurred in Mobile in 1703. The Masque de la Mobile was a secret society formed to organize Mardi Gras celebrations and was similar to the "krewes" in New Orleans who sponsor parade floats. The first recorded parade was led by Mobile's Boeuf Gras Society in 1711, with 16 men pushing a cart that held a large papier-mâché cow's head. The celebrations didn't reach New Orleans until 1718.
---
Mardi Gras didn't reach New Orleans until 1718.
---
Biloxi became the second capital of Louisiana around 1720 and kept French customs alive. In 1723, the capital was moved to New Orleans due to fear of hurricanes and tides.
The British controlled Mobile in the 1760s and their restrictions on racial segregation caused many Creoles to leave and move to New Orleans. When Spain snatched up Mobile in 1780, the area switched to Spanish torch-lit parades on Twelfth Night (January 6, aka Epiphany). By 1817, it had become part of the territory of Alabama and began celebration of Shrove Tuesday, or Fat Tuesday, in Anglican and Episcopal tradition.
This is also where King Cake came from: Epiphany!
---
A mystic society is a Mardi Gras social organization in Mobile, Alabama that presents parades and balls for the public's enjoyment.
---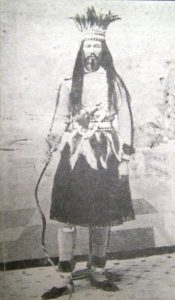 In 1830, the first mystic society was formed by Michael Krafft and a group of revelers carrying hoes, cowbells, and rakes. They called themselves the Cowbellion de Rakin Society, in a parody of French.
In 1835, they took their parading tradition to New Orleans, leading to the formation of the Mistick Krewe of Comus.
The parade tradition was revived in 1867, after the Civil War had ended, thanks to Joe Cain. He rode in a decorated charcoal wagon with 6 other veterans. Since 1966, Joe Cain Day has been celebrated every year on the Sunday before Mardi Gras.
If you've been to a Mardi Gras celebration, you have probably noticed the main colors: purple, green, and gold. Here's what they mean:
Purple – Justice
Green – Faith
Gold – Power
Purple has traditionally been related to royalty, especially in Europe. Plus, it's the liturgical color used during Lent for Christians.
Green wasn't incorporated until later, but it may have been influenced by the Russian House of Romanov in 1872, whose traditional colors were purple, green, and gold.  In fact, the colors were adopted when Grand Duke Alexis Romanoff Alexandrovitch (brother of the heir apparent to the Russian throne) accepted New Orleans's invitation to attend Mardi Gras, with festivities in his honor.
What about the floats?
Mardi Gras parade floats are taken very seriously in Mobile. In fact, some businesses work on them year-round, doing that and only that! They're typically designed to hold about 16 people and are narrow enough to navigate streets safely. They're also usually multi-level with several mezzanine stations. The float "captain" is usually stationed on the top level of the float.
Some of the most famous floats are as follows:
Order of Myths Emblem: Folly chasing Death around the broken pillar of life.
Knights of Revelry Emblem: Folly dancing in the goblet of life.
Infant Mystics Emblem: A black cat atop a cotton bale, the foundation of Mobile's antebellum wealth
Mystics of Time's Vernadean: A giant, rolling, fire and smoke-breathing dragon float
Mystic Stripers Society: Two large 40-foot-long (12 m) emblem floats, one a ferocious and "strong" Tiger, another a sleek and "fast" Zebra.
Crewe of Columbus' Nina, Pinta and Santa Maria: Three floats built to resemble Columbus' famed ships.
Order of Polka Dots: Famed emblem featuring three winged sons of Pegasus bearing the Golden Chariot of the Gypsy Queen through rainbow enveloped clouds
Order of Inca Messengers and Sun Worshippers: Some of Mobile's largest moving structures.
Conde Cavaliers Emblem: Swashbuckler points his sword right at Mobile.
Comic Cowboys: Series of satirical comments on current events, locally and nationally.
Mobile Area Mardi Gras Association (MAMGA) The Mollies
Where did King Cake come from?
As previously mentioned, King Cake was traditionally associated with the January 6 celebration of Epiphany, or Twelfth Night, when Christians celebrated Christmas for 12 days leading up to this night.
King Cake is typically an oblong, braided coffee cake iced with purple, green, and gold sugar. Each cake has a hidden baby doll inside. According to tradition, whoever finds the baby must buy the next King Cake or throw the next King Cake party!
Order Seasonal Donuts for Mardi Gras now!
Ready to party this Mardi Gras? Order seasonal Mardi Gras-themed donuts for your bash today! Simply click the button below to start ordering our delicious donuts and treats online. We promise they'll make your party an event to remember.
Get Seasonal Donuts for Your Mardi Gras Party | MyShipleyDonuts – Houston, TX[:]